Why is it important for brands to build their own influencer marketing strategies?
Influencer marketing is one of the best ways to communicate between a brand and an audience. This is proven by its popularity and forecasted future growth.
The market grew from $1.7 billion in 2016 to $13.8 billion in 2021. In 2022 the market is expected to grow to $16.4 billion in 2022.
Since the 14 iOS release Influencer Marketing ROI blows paid social advertising out of the water and seems like the more impactful and creative choice for budget allocation.
So, here's how to create an effective marketing strategy with Hypetrain.
1. Determine the target audience and prepare an advertising campaign plan
The first step you need to take before starting an influencer marketing campaign is to determine the audience to the advertising message will be directed. Does the audience include males 35-55, and women 17-25. or children? The audience determines which social media channels fit best for an influencer campaign.
Defining the distribution channel is also an important planning step. For example, beauty and fashion brands collaborate effectively with influencers through Instagram. The video game industry dominates on Twitch. YouTube is a more versatile platform that is suitable for reaching the widest audience. To communicate with young people under 25, you should definitely pay attention to TikTok.
After choosing the audience and advertising distribution channel, you can proceed to the planning stage. Some questions to consider include:
How long will the campaign last?

What goals must be achieved, and how will the effectiveness of the goals be measured?

What is the budget? The budget largely determines the direction of the campaign, particularly with the chosen influencers (nano-, micro-, macro-, or celebrity).
Here we wrote about what kind of influencers are best for different types of campaigns.
It should be noted that the cost of advertising cooperation with nano influencers is lower compared to influencers who have a larger number of followers. But this doesn't mean that the effectiveness of cooperation with them will be lower. On the contrary, very often nano influencers have a higher level of engagement with their audience. However, frequently, the number of followers determines the value of influencers' advertising messages. According to Andrew Mаcarthy, the author of 500 Social Media Marketing Tips, the cost of paid posts on Instagram in 2022 ranges from $10 to $10,000.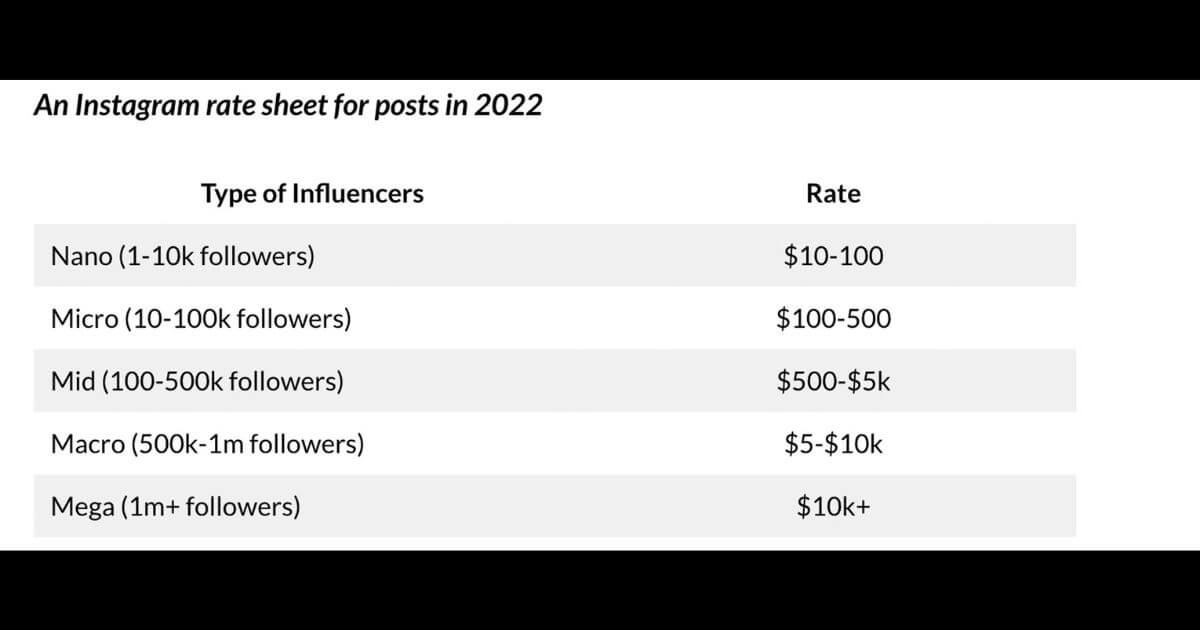 2. Influencer marketing campaign budget
As we wrote above, the budget largely depends on what type of influencer you will partner with, how broad the advertising campaign will be, how many influencers will be involved, etc. It's important to note that despite the data above (the cost of advertising posts on Instagram), there's really no clear boundary for the cost of advertising partnerships with influencers.
Someone can agree to talk about a product or service for free in exchange for the product itself. In fact, influencers really don't like this type of collaboration, and we don't recommend it for big brands. On the contrary, someone can set an enormous price tag for their services, which won't match the influencer's audience size and its engagement level.
To avoid mistakes at the very beginning of planning a marketing campaign, we advise brands to analyze how much the influencers' advertising will cost. Hypetrain researchers calculate the recommended price for advertising cooperation with YouTubers and Instagram influencers using a unique formula that relies on 10+ metrics. This information is extremely useful at the campaign planning stage and can save some of the advertising budget or allocate it more efficiently.
3. Goals of an influencer marketing campaign
Goals can range from testing a new product on a new audience to increasing brand awareness in a new market. Influencer marketing also helps to maintain high loyalty among brand followers. In general, the purpose of the marketing campaign will determine the nature of negotiating with influencers.
4. Finding and contacting influencers
This is one of the most painful things about influencer marketing. It would seem that the top influencers are well-known, and there's no problem approaching them with an advertising proposal. However, as we said above, the peculiarity of influencer marketing is that each influencer "sells" his or her own unique audience. More specifically, it "sells" the trust. That's why it's critical to choose influencers who are as close to your brand as possible for an effective campaign. If your company makes clothes, at first glance it doesn't make sense to turn to gamers. But if the brand suddenly has a new product line that is aimed at a younger audience, you might consider looking for gamers who share the brand's values.
Sharing brand values is not just empty words. It is extremely important to choose influencers with a good reputation who will not harm the brand. Social media stars love scandals and viral topics to attract new audiences, but these can sometimes be damaging from a commercial point of view. And it's not just aspiring influencers who fall into this trap, but also influencers with millions of subscribers. We recommend reading the story that Logan Paul had to apologize for.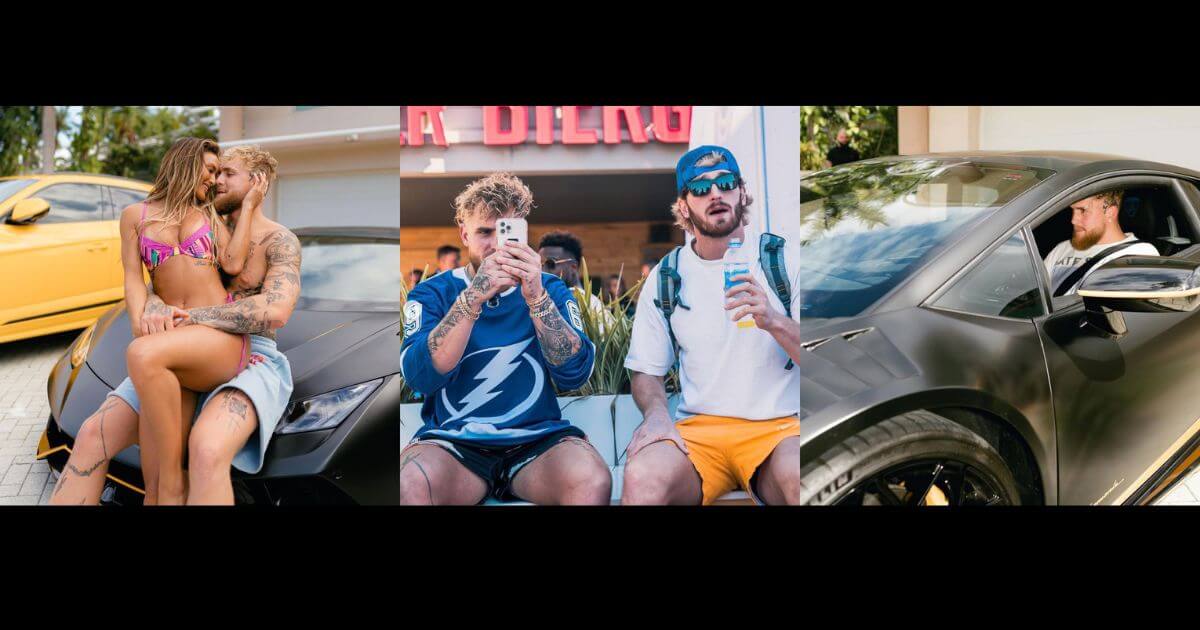 After you have chosen the influencers that match your audience, speak on topics close to your brand, and share your values, we recommend looking at those that your chosen influencers' audiences follow. This will help you understand the audience of your chosen influencers better and get an idea of their values. However, it is not that simple. To get the perfect match, you need to try a bit harder.
If you are having trouble finding influencers, you can use our Hypetrain service. We monitor the bloggers' accounts and give you an idea if the cooperation looks promising for your business. Algorithms created by our engineers analyze all videos and their performance for the last 90 days on more than 2.4 million YouTube channels.
We also help you contact influencers. If we're talking about top influencers, they usually have their own agents with whom you need to start negotiations about cooperation. But for nano-influencers, you can send a direct message, and they'll probably answer you quickly
5. Determining campaign effectiveness
Depending on the goals of an influencer marketing campaign, different markers can be used to help evaluate the campaign's effectiveness. You can track mentions of keywords on social media. If the goal is to increase sales, a promo code can help you understand how many people the influencers help attract.
In general, it is very common for brands to use influencer marketing as part of a larger marketing strategy to expand their audience and increase brand loyalty. In this case, one of the indicators of effectiveness can be the growth of subscribers on the brand's social networks.6. Smart creator briefing
6. Smart creator briefing
And one last piece of advice – negotiate creatives with influencers in advance. Smart creator briefing is your roadmap to successful campaigns that will meet your expectations. Perhaps if you have been working together for a long time, you can trust the influencer's opinion; however, to avoid misunderstandings, it is best to discuss at the beginning how the creatives will be coordinated and how many edits the brand can make.
We should not be too picky, after all, what makes influencer marketing so effective is the added value and creativity that bloggers bring, right? But despite the artistic freedom, we should not forget that the brand is the customer of the influencer campaign, and it gets the last word.
So please don't be afraid to use a flexible brief that provides influencers with enough guidance to meet expectations, BUT leaves plenty of room for interpretation.
Trends that will help you run an effective influencer marketing campaign
An important feature of influencer marketing is that it always changes. It is difficult to attract the audience's attention using old methods. Therefore, it is extremely important to monitor trends on social media.
The first trend we strongly recommend paying attention to is the popularity of video content. By 2022, Adobe forecasted online videos will make up more than 82% of all consumer internet traffic — a massive 15 times higher than in 2017. Here we wrote about it in detail.
Most social media follow this trend: YouTube, TikTok, and Twitch.
By the way, Instagram's attempts to abandon the priority of photo content and completely switch to video caused protests from users. Particularly popular British-Nigerian talk show host and public speaker,
Instagram is trying so hard to compete with TikTok that they're trying to become another TikTok. If I wanted to see video after video from random pages I don't follow, I wouldn't be on Instagram. Do what we need from you, and bring back the photos of our actual friends!!! Toni Tone
Audio content is also trending, and the growth forecast for the podcast industry is very positive.
And one more trend that we want to pay attention to is the shift from gloss to reality. Here is how the authors of The Atlantic explain this trend using the example of Instagram content. "While Millennial influencers hauled DSLR cameras to the beach and mastered photo editing to get the perfect shot, the generation younger than they are largely posted directly from their mobile phones. In fact, many teens are going out of their way to make their photos look worse. Huji Cam, which makes your images look as if they were taken with an old-school throwaway camera, has been downloaded more than 16 million times."
The popularity of the BeReal app confirms this trend, which acts as the exact opposite of Instagram. In BeReal, photos can be posted only at random moments — the application chooses the time and photos are taken from two cameras at once which cannot be edited. According to Google Trends, the app's popularity growth began in April 2022 and increased significantly in July and August of this year.
The request for natural and genuine content is worth keeping in mind when discussing creatives with influencers. An overly pretty picture may not match the aesthetics of the younger generation.
And one last piece of advice – negotiate creatives with influencers in advance. Perhaps if you have been working together for a long time, you can trust the influencer's opinion; however, to avoid misunderstandings, it is best to discuss at the beginning how the creatives will be coordinated and how many edits the brand can make. We should not be too picky, after all, the influencer "sells" their goods and services to the audience by themself. But despite the artistic freedom, we should not forget that the brand is the customer of the influencer campaign, and it gets the last word.
Let Hypetrain power your journey with automation and big data analysis
If you have a marketing campaign on your way, let Hypetrain power your journey with automation and big data analysis. We want you to focus on creativity rather than routine tasks. Just enter your email and you are all set to explore all the features of our user-friendly platform - https://app.hypetrain.io/join
Instagram