What's the matter?
When it comes to influencer marketing platforms available today, one of the greatest difficulties is that no search engine can guarantee 100% accuracy in search results,even if you use the keyword search in addition to filters. Though, Hypetrain filters cope with the task better than a Google search anyway.
Imagine a situation when you need to find an influencer to promote a new vegetarian chocolate bar on Instagram in the United States. Let's say you need an influencer with an audience of 100,000 – 300,000 followers and an engagement rate of >3%. You will probably choose the categories "Restaurants, Food & Groceries" and "Healthy Lifestyle," and add the keyword "vegetarian." Seems logical, right?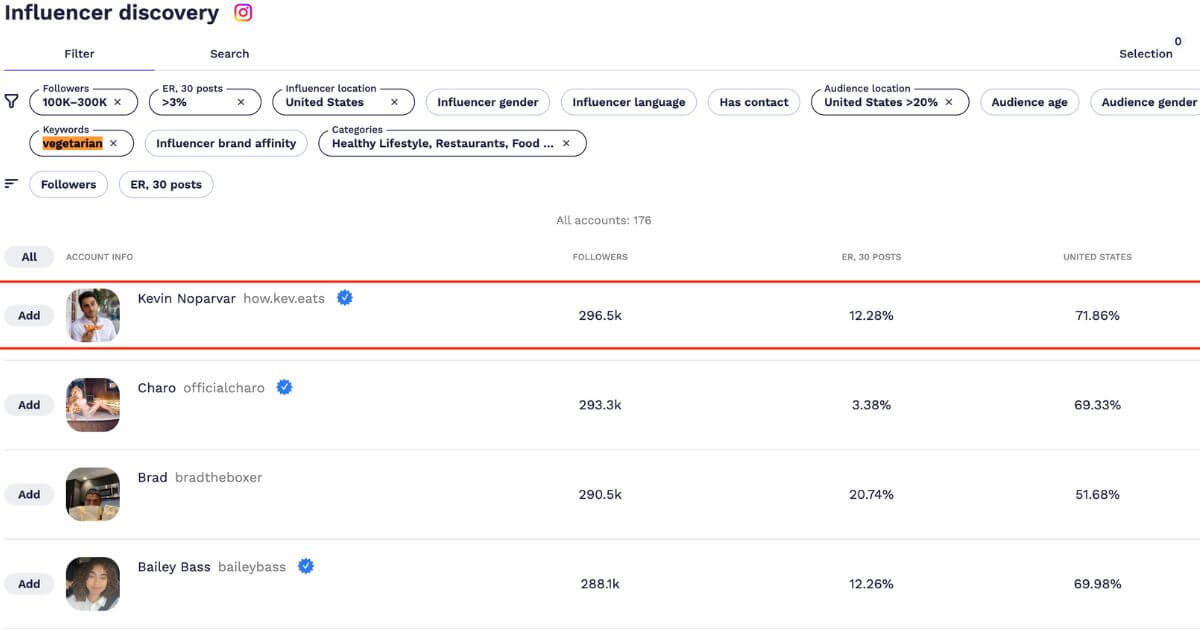 The first creator in the search results looks like a perfect match! But when you open his profile, fried chicken and burgers are probably not the thing you expect to see.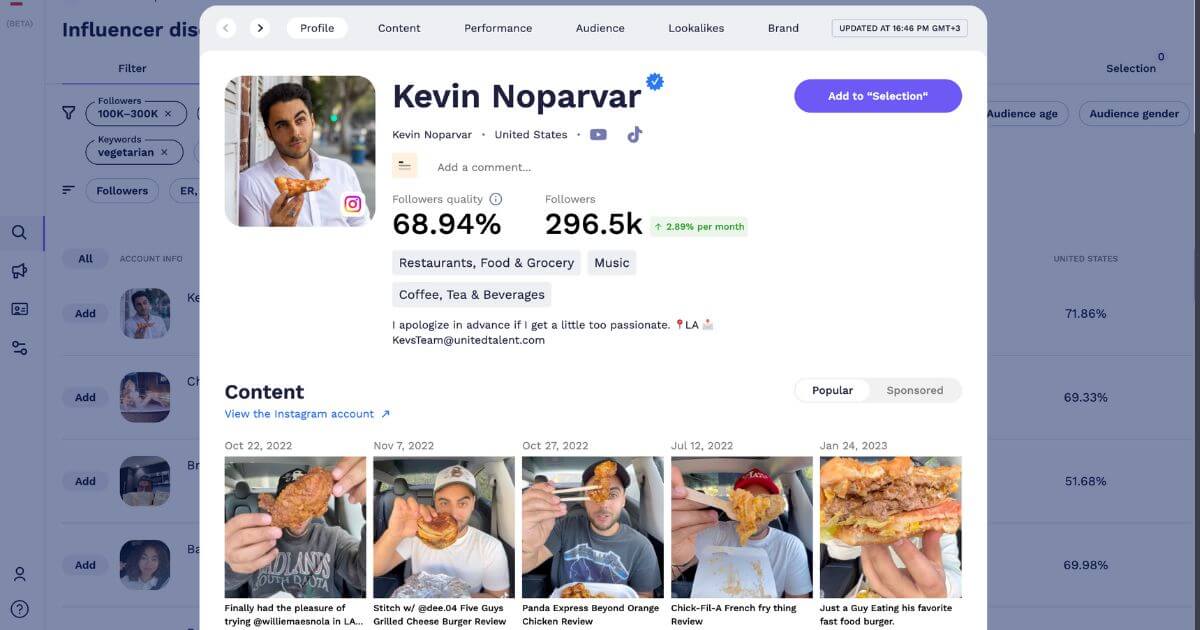 hypThis is a common case among influencer marketing platforms as search engines look through the profile and content descriptions and display all influencers matching your filters. In our example, the creator is a food reviewer and has made some posts about vegetarian items, but very few of them. Thus, it is unlikely that this influencer can share the values of a vegetarian brand and that his target audience is vegetarians.
This issue naturally brings us to the following question: how can you ensure you're getting maximum accuracy from your search?
General tips
The secret is simple – you need to complete some preparatory work.
Unexpected revelation? Of course, but let's face the truth, even the smartest influencer marketing platform can't read your mind. So before starting the search process, we suggest you conduct a brief market research to know exactly what your needs and expectations are.
Here're some basic milestones you need to define before starting to set filtering options:
Portray your ideal influencer
Consider what kind of creator best fits your brand's values and message. For example, do you want someone serious and professional? Or do they need to be fun-loving? Are they creating content on topics relevant to yours? Define the key characteristics, including age, gender, location, interests and occupation, among others. This will help to set influencers' parameters and categories more efficiently.
Identify your target audience
Who are your ideal customers? Where are they located? A good way of answering these questions is by creating buyer personas based on various demographic data. This will help to make sure that those people will be interested in what you offer.  If you have several audiences, always remember they are not alike. Each group has its own unique needs and preferences which should be considered before making any further decisions on your influencer marketing strategy!
Set clear goals for your campaign
If you don't know what you want to achieve, it's impossible to measure the effectiveness of your efforts — increasing brand awareness, generating greater revenue, attracting more leads or something else. Figure this out to correctly set filters such as "followers," "engagement rate" and "views". A lack of clear goals often means your influencer marketing effort is just spinning its wheels.
Estimate an approximate budget
What kind of ROI (return on investment) do you want from your campaign? This determines how much money should be allocated for each component of the project, including content creation costs. When searching for YouTube influencers, you can specify the "recommended price." By outlining the limits, you can stay within your budget while still achieving desired results.
Explore trends in your niche
Take the time to explore industry trends before jumping in headfirst. Knowing what's going on in your industry can help create a more effective and successful campaign. To stay up-to-date with the latest news, follow industry leaders, subscribe to newsletters from key players, read online blogs dedicated to specific niches, and leverage social media listening to understand customer sentiment towards particular brands, products, and services. By doing so, you'll be able to add specific keywords to narrow the search.
Hypetrain cases
Having the complete picture of your campaign will eliminate blind guessing at the filter tuning stage. Otherwise, you will most likely feel blue and come to a hasty conclusion that the platform does not work as expected. So try not to skip the preparatory work 🙂
To prove our point, we've demonstrated how influencer discovery works on the Hypetrain platform by simulating two scenarios in the most popular search categories.
Case 1: Selling handmade boho bags on Instagram
Situation: You need to promote a limited collection of boho bags on the local UK market.
Since the market is local, you may turn to UK-based micro-influencers with a high engagement rate. They not only provide more targeted reach than traditional celebrity endorsements but also offer greater authenticity and trust in their recommendations.
Considering the niche, the boho style is not a mass market. Therefore, it is worth assuming that an expert with a great eye for fashion and an outgoing personality, such as a stylist, would be an ideal spokesperson. Their enthusiasm for unique items surely drew attention to a limited handmade boho bag line. "Stylist" and "boho" keywords also help narrow the list of influencers and show the most relevant ones.
Let's set the filters and see what Hypetrain will display: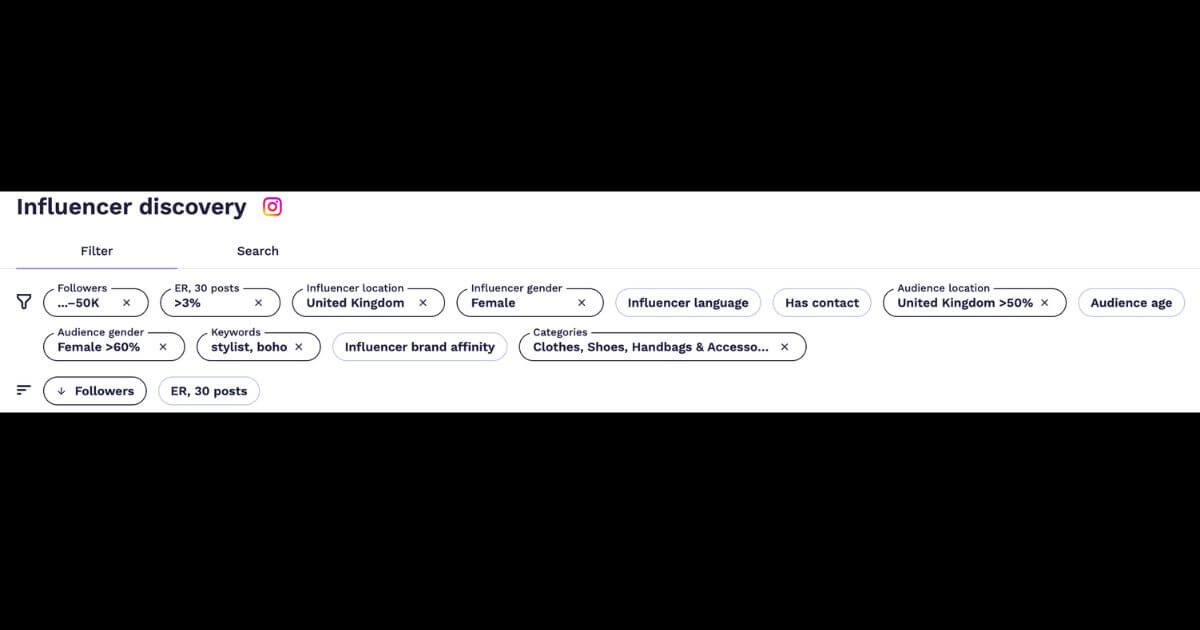 Considering the first five search results, we see that four of them fully match the query – these are family/kids profiles with relevant content: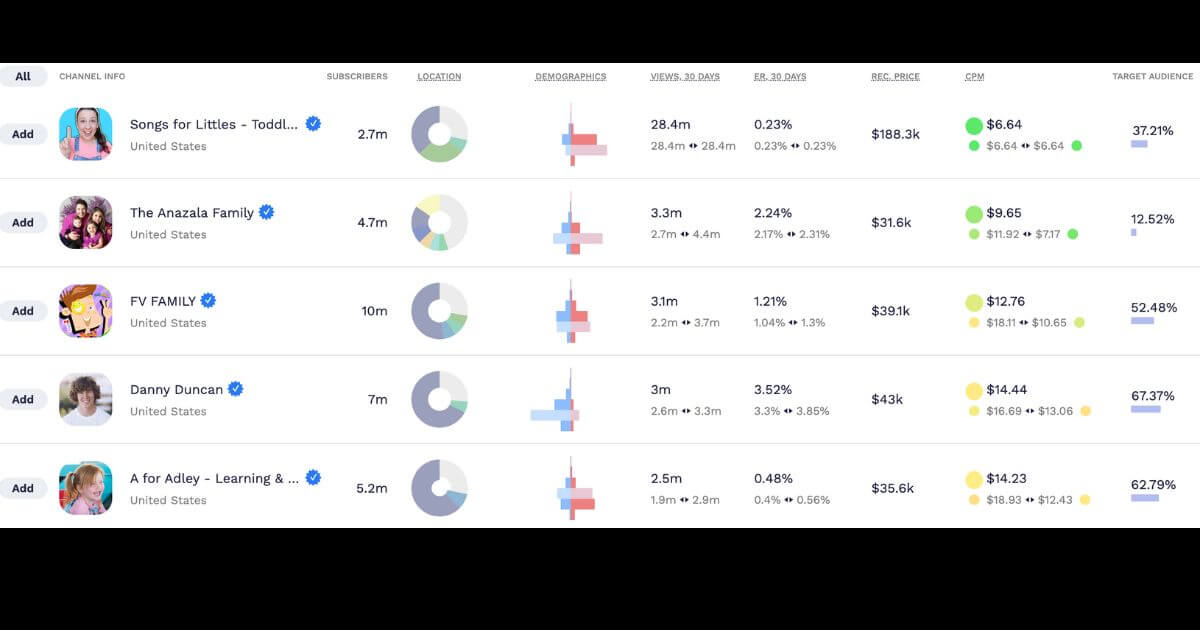 Wrapping up
So how do you find real gems using an influencer marketing platform? Put simply, just try to sort things out and conduct the most specific search possible. We hope this post will become your handy guide to mastering influencer filtering. And remember, with practice comes perfection!
At Hypetrain, our development team is actively working on expanding platform capabilities, including enhancing the search function. So stay tuned for our updates!